Posting Bond in Nevada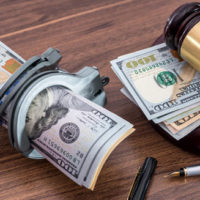 If you've been arrested in Las Vegas, there are a few things you should probably know right away. First, do not speak to the police. Be polite, be cooperative, and do not be unnecessarily argumentative. But do not answer any questions. Simply ask for a lawyer and remain silent. Call Lobo Law to get help with bond and other matters relating to your charges. The sooner you retain an experienced Las Vegas criminal defense lawyer, the better off you will likely be. Here are several key things to keep in mind about making bail.
There are four general ways to get out of jail in Nevada after an arrest.
If you have the money to post bond on your own, it's usually your fastest option. While it may be a bit unpleasant to come up with a large sum of money all at once, doing so puts you back at home where you can better plan and coordinate your defense strategy. Plus, if you have a job to go to, you may be able to avoid the uncomfortable discussion about why you aren't at work.
In many cases, you can ask to be "released on your own recognizance." This will generally require you to seek a recommendation from Nevada Pretrial Services. This just means you will sign official paperwork promising to show up for all hearings and the trial. If granted, it should cost you nothing. This is almost never granted in serious felonies where bodily harm was done to the victim or where you pose a potential risk of fleeing the jurisdiction. But in minor cases, it is often allowed.
A surety bond is used in situations where the bail is too expensive. You will need to contact a bail bonds company. They will post the bond for you, in exchange for a portion of that money being paid. It is usually 15%. Think of a surety bond as insurance. You pay a premium in exchange for the bondsman taking on a risk that you may not show.
Property Bonds. If you own real estate in Nevada, you might be able to use it as collateral to secure your release. You must show that you have positive equity in the property, and the court will assert a lien against the property in the event that you fail to show for hearings.
Why Hire a Lawyer? 
Sometimes arrests happen at inconvenient times, like late at night, weekends, or on holidays. When this happens, it can be very difficult to secure your release until the next business day. The problem is, you will be brought before the court on an initial appearance, likely without a lawyer. This is a crucial moment in your case where having an attorney can be very helpful. If you have an attorney representing you, the lawyer might be able to assist in requesting your release. Likewise, a lawyer can ensure that you don't say the wrong thing or waive certain rights at the initial hearing.
For help immediately after an arrest, call Lobo Law today. Our Nevada legal team is eager to assist you today.
Resource:
lasvegasjusticecourt.us/divisions/pretrial_services/index.php
https://www.lvcriminallawfirm.com/can-you-record-the-police-in-vegas/