Can You Record the Police in Vegas?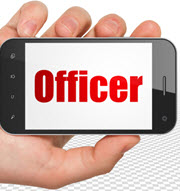 In general, yes. The U.S. Constitution has been interpreted as protecting the right to take photographs in public. Indeed, being able to record and document public events is an extremely important check on government power. However, there are certain exceptions and nuances that you need to understand. Sadly, many law enforcement officers may be overzealous and overreact when being filmed doing their jobs in public. This can lead to unlawful arrests, harassment, and even excess force violations. If you or someone you know has been arrested for lawfully photographing or recording the police, give Lobo Law a call today.
Photographing the Police in Public is Legal 
As long as certain requirements are met, you are usually fine to take photographs of the police. These are:
You must be in a public place
You must be there lawfully
You cannot directly interfere with the police
If the events are taking place on private property, then it is up to the property owner whether to allow you to continue being present on the premises. If it is your home or apartment, then you generally should be fine.
Video Recording the Police is Usually Legal 
One important exception is actual recording, because this usually has an element of sound. Under Nevada's wiretapping laws, you must have the consent of at least one party to a conversation in order to record. Thus, if in a private place, you will need consent to video tape or audio tape someone who is having a private conversation.
Of course, this is where police often err. They make the mistake of considering themselves private citizens. This rule is waived in situations where the communication is considered public. An arrest or public detention of a suspect in a public place cannot be reasonably construed as a private conversation. Therefore, you are generally allowed to video record the police while they are performing their public and official duties.
What to Say if the Police Confront You 
If police officers confront you or demand you stop recording or stop photographing them in their official duties, you should simply and very respectfully reply that you have a right to record public officials performing their duties. If police officers persist or in any way make you feel like you are going to be arrested, you need to ask, "Am I free to leave?"
This forces the officer to make the decision whether to arrest you (which requires that there be some suspicion that you committed a crime) or leave you alone. Many illegal arrests happen every day for this very reason – because a police officer did not realize the limitations of their power.
Fighting an Improper Arrest 
Ultimately, it's always best to avoid confrontations and unnecessary interactions with police. But if you are unjustly arrested for simply taking pictures or recording police in their public activities, call Lobo Law in Nevada so that we can meet with you and discuss your options. Never plead guilty or speak with investigators or prosecutors without first talking to a lawyer of your own.
Resource:
leg.state.nv.us/nrs/nrs-200.html#NRS200Sec620