Forgery Crimes: Establishing or Possessing a Financial Forgery Laboratory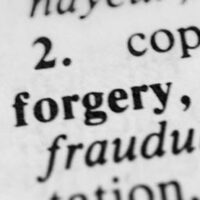 Forgery is a crime that involves many potential criminal acts under Nevada law. Under Nevada state law, forgery can include, among other things, falsely counterfeiting, altering, making, erasing or obliterating documents. The crime of forgery is considered to be a "white collar" crime because it is not a crime of violence; also, the crime of forgery often, although not always, involves a relationship of trust between the victim and perpetrator.
Historically, forgery laws were designed to address crimes related to falsifying handwritten or typewritten documents. Over time, technology advanced the ways in which documents were created and drafted, and the law kept apace by creating new forgery crimes. One example in Nevada is the crime of establishing or possessing a financial forgery laboratory. What is a financial forgery lab? News reports provide two examples:
In 2013, law enforcement authorities discovered a financial forgery lab in an apartment, according to news reports. In this case, 3News Las Vegas reported that the apartment contained computers, printers and scanners, paper and ink, all used to make counterfeit currency (some of which was also discovered inside). The discovery of the lab ultimately led to a guilty plea.
More recently, according to a report in the Las Vegas Review-Journal, police uncovered a forgery lab in a car during a recent traffic stop. In this case, according to the news report, a search of the vehicle involved revealed equipment that could be used to create forged documents, fake and blank credit cards, a laptop and a printer, a notebook containing credit card numbers, and directions on how to create false documents.
The language of the law that prohibits establishing or possessing a financial forgery laboratory appears to be relatively straightforward – Nevada law makes it a crime to establish or possess a financial forgery laboratory with the intent of committing an unlawful act. This definition begs the question, however:  what is a financial forgery laboratory? Fortunately, the law also specifically defines this term:
A financial forgery laboratory (under NRS 205.46513) is a computer, system, program, other electronic or mechanical device (or any combination of the foregoing) that is specifically configured to unlawfully:
obtain personal identifying information of another person to commit an unlawful act, or
manufacture any forged or fraudulent financial instrument, document or item
Expert testimony can be relied upon to establish that the components of the alleged financial forgery laboratory have been configured in order to unlawfully obtain another person's identifying information or to manufacture forged or fraudulent instruments, documents or items.
A violation of the law prohibiting establishment or possession of a financial forgery laboratory is a category B felony, punishable by a prison term of between one and 20 years, and a fine of up to $100,000.
For more information about the crime of establishing or possessing a financial forgery laboratory, if you have been charged with this crime, or if you would like to know more about or have been charged with another forgery crime, contact a Las Vegas criminal defense lawyer at Lobo Law.
Resources:
leg.state.nv.us/nrs/nrs-205.html#NRS205Sec085
reviewjournal.com/crime/las-vegas-police-say-they-found-forgery-lab-during-traffic-stop-2013026/
news3lv.com/news/local/attorney-general-man-convicted-of-possession-of-financial-forgery-laboratory
leg.state.nv.us/nrs/nrs-205.html#NRS205Sec46513
https://www.lvcriminallawfirm.com/reports-note-recent-drops-in-crime-rates/