Body Cameras Worn by Las Vegas Police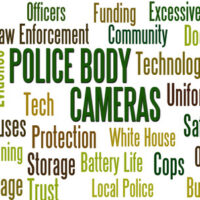 Recent events involving interactions between police officers and civilians have brought up a topic that has been discussed for several years. The use of body worn cameras by police officers has been considered as a tool for reducing officers' excessive use of force.
Several years ago, the Metropolitan Las Vegas Police Department was one of the first police departments in the country to provide their officers with body cameras. A few years later, in 2017, the department published the results of a study that evaluated the pros and cons of the use of the cameras. The study also included a cost evaluation for the implementation of the use of cameras.
The study as well as experts and the general public often discuss the advantages of the technology.
Pros
Transparency. The use of this technology may increase public trust in officers, which is at an all-time low given recent incidents involving police brutality.
Civility. The defenders of the use of cameras argue that they may contribute to citizens' compliance with commands by the officer as it has been shown that individuals improve their behavior once they know the interaction is being recorded, helping to de-escalate any potentially violent exchange.
Resolution. Video of encounters between citizens and officers can corroborate or negate any allegations in a police brutality claim and result in a quicker resolution of the case.
Evidence. Videos collected can be used as evidence in prosecutions against citizens and/or officers as they provide real accounts of the events.
Training. These videos also provide opportunities for training future officers by showing them the videos and evaluating the recorded interactions' positives and for potential improvements.
Cons
Costs. According to Table 13 the 2014 study mentioned above, the 2014 annual cost of using these cameras was more than $800,000. To offset the costs, the department charges citizens for footage taped by these cameras.
Privacy issues. The technology allegedly violates the privacy of the citizens that interact with officers wearing a camera. The argument is that the recordings violate the privacy of these individuals by exposing their mental illnesses (for those who have these issues) and their faces, causing fear of retaliation.
Safety of police officers. Allegedly, some individuals can react negatively when they know their actions are being recorded causing them to react with violence against the police officer and exposing said officers to potential violent acts against them. This could also affect the officers' mental health by being constantly recorded.
If you have any questions about how the use of body-worn cameras can affect your claim of police brutality and how to obtain those records to support your case, contact the skilled Las Vegas criminal defense attorneys at Lobo Law today.
Resources:
ncjrs.gov/pdffiles1/nij/grants/251416.pdf
rgj.com/story/news/2020/06/24/las-vegas-police-charge-280-per-hour-body-cam-footage/3250074001/
https://www.lvcriminallawfirm.com/what-are-your-first-amendment-rights-as-a-protester/