Wrongful Arrest And Convictions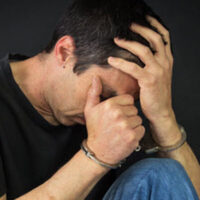 Shane Brown had a warrant out for his arrest for being a felon who was in possession of a firearm. During a traffic stop, Shane Brown was arrested on that very warrant.  Now he's suing both Henderson and Las Vegas police claiming his civil rights were violated, he was falsely imprisoned, and there was negligence and wrongful conduct by law enforcement.  What gives?
Details Matter 
It seems the police, in their rush to put a known felon in jail, overlooked a few key details that may have made a difference in the actions they took:
The Shane Brown with a warrant had a middle name of Neal; the Shane Brown they arrested had a middle name of Lee;
Shane Neal Brown was a white man with a bushy gray beard, whereas Shane Lee Brown was a clean-shaven Black man;
The felon was in his 50's; the arrested man was in his 20's;
Shane Neal was taller than Shane Lee.
Despite Shane Lee Brown's protestations that the police had the wrong man, no one listened.  He wound up spending six days in jail, released only when a judge ordered it.  Brown's attorney claims that police and corrections officials failed to take any basic steps that might be called due diligence:
They failed to look at photos of the wanted man;
There was no fingerprint comparison;
Physical descriptions clearly did not match, though no one took the time to notice;
Identity numbers and birth dates were never matched.
It was clearly a horrendous experience for Shane Lee Brown.  You might think that misidentification is pretty rare; after all, it does require a certain amount of ineptitude, right!  But the statistics related to wrongful arrests and convictions are chilling.
The Numbers Tell a Hideous Story 
Just how many people experience wrongful arrests and convictions in this country?  According to The High Court, a legal group who studies such matters, somewhere between 46,000 and 230,000 people who are innocent are serving time behind bars in this country. That's roughly 2-10 percent of the prison population. The convictions in these cases are largely based on certain key problems:
Eyewitness identifications made in error;
Forensic evidence that is misapplied and/or misleading;
False accusations by informants who often stand to benefit from information provided;
Poor legal defense;
Misconduct by officials;
False confessions, often coerced.
Fighting Wrongful Arrests and Convictions 
It has to be incredibly frustrating to feel powerless against the justice system in this country.  At Lobo Law, our fervent criminal defense lawyers are passionate about justice, and know that the system fails Americans all too often.  If you or a loved one is looking for a dedicated Las Vegas criminal defense attorney, look no further than Lobo Law.  Contact our office for a confidential consultation today.
Resource:
fox5vegas.com/news/black-man-arrested-as-white-felon-twice-his-age-suing-las-vegas-henderson-police/article_5cec755e-7b24-11ec-b1c7-772efa5357fa.html?block_id=1002797