What to Do After Being Arrested for a Bar Fight in Las Vegas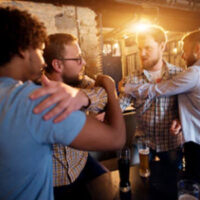 Whether a person is a tourist or calls Sin City home, fights are something that frequently occurs breaks out in clubs and bars throughout Las Vegas. The reasons for bar and club fights stem from overly drinking alcohol to someone saying something that another person simply did not like. Here's what to do if the bar fight you're involved in turns into an arrest that results in a criminal defense matter in Las Vegas.
Don't Give a Statement to the Police
In the heat of the moment you may want to try to explain your side and tell the police what happened, how the fight started and any other details. You should not give a statement to the police after being arrested for a bar fight. Remember, anything that you say to the police will be used against you in court.
Ask for the Presence of a Criminal Defense Lawyer
Whether you're in the police car or in the interrogation room, you do not want to say anything that will hurt your chances of getting a successful case outcome. You shouldn't say anything without the presence of a knowledgeable criminal defense lawyer. What if the case is one of mistaken identity and you end up giving information that shows otherwise?
Police will do whatever they can to get an admission of guilt, even if it means lying, telling you they are on your side, and saying you can go home if you just tell them what happened. Never fall for this tactic of persuasion. Always decline to answer any question or remain silent and demand that your lawyer be present.
Be Honest with Your Lawyer and Allow the Lawyer to Review All Evidence
Your criminal defense attorney can only provide the best representation if you are honest with him or her. Do not leave out any key details when explaining the situation for your attorney.
A skilled criminal defense attorney will have experienced many cases and should be able to create the best plan of action or defense for your case. Allow him or her to review all of the evidence or discovery materials. This consists of any police reports, statements from on-site witnesses, surveillance videos and other key materials that will reveal information about the case.
The Right Attorney Makes All the Difference
The attorney you choose can make or break your case after a bar fight. Be sure to interview several criminal defense lawyers and ask questions about their expertise and knowledge. Finally, you want to make sure you are comfortable enough with the attorney to tell him or her the truth about the matter.
If You Were Involved in a Bar or Club Fight in Las Vegas, Call Lobo Law.
Lobo Law provides sound legal advice for those involved in bar and club fights in Las Vegas. Adrian Lobo is an aggressive and compassionate Las Vegas criminal defense lawyer who is determined to give you the qualified legal help you need. When results matter, contact Lobo Law at 702-290-8998 to schedule a consultation to discuss your charges.
https://www.lvcriminallawfirm.com/listen-to-your-criminal-defense-lawyer-and-try-las-vegas-drug-court/