U.S Supreme Court Intervenes In Opioids Blame Case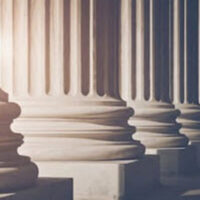 Patients go into doctor's offices every day complaining of excruciating pain, expecting a solution. For many, that solution is opioids of various varieties and doses, often leading patients to ask for additional prescriptions down the road.  And yes, sometimes people get addicted, and the outcomes are horrible. Prescribing doctors have taken the brunt of the blame for the opioid crisis for years now, but the U. S. Supreme Court decided it's time to reconsider where that blame is placed.
The Drug Crisis is Real 
According to the National Center for Health Statistics (NCHS), the number of fatalities related to drug overdoses has been rising steadily for decades, with well over 80,000 deaths in 2021. That number includes both prescription and illicit opioids. It's important that both legal and illegal opioid use be noted, since about eight in ten heroin users say they previously used prescription opioids. The link between the two is tangible; heroin, which is similar chemically to prescription opioids, is simply cheaper and easier to obtain than prescriptions are. Without question, the misuse of opioid prescriptions—taking it other than the way it was prescribed, taking the medicine that was prescribed to someone else, or taking it simply to get high rather than for its intended purpose—is definitely one factor that leads to the use of heroin or other illicit drugs.
The Case of Dr. Shakeel Kahn 
Dr. Shakeel Kahn was convicted of prescribing opioids unlawfully in 2019, and was sentenced to 25 years in prison after being found guilty of the unlawful distribution of prescription medications and additional charges. But a federal appeals court overturned that ruling following the Supreme Court's ruling that jurors had received improper instructions in the case, raising the bar for prosecutors in similar cases across the country.
Prescription Requirements in Nevada 
Here in Nevada, there are specific rules to which doctors must adhere prior to making any initial prescriptions for controlled substances (CS) outside of hospice care, palliative care, cancer care, and sickle cell care:
There must be a genuine doctor/patient relationship;
A diagnosis and treatment plan must be established;
A risk assessment must be completed;
There must be a check to see if the patient has any other prescriptions for the CS;
Other options should be presented;
Adhere to limits as to dosage and supply;
Patients must sign informed consent.
The Defense You Deserve 
If you are a physician who has prescribed controlled substances, you are not alone.  Patients often require and/or demand these medications.  Sometimes, they result in drug dependencies.  Is that the fault of the prescribing doctor?  The Supreme Court is now providing doctors a little more leeway when addressing that question.  At Lobo Law, our experienced Las Vegas criminal defense attorneys are prepared to put together a vigorous defense for you.  Schedule a confidential consultation in our office today.
Source:
nida.nih.gov/publications/research-reports/prescription-opioids-heroin/prescription-opioid-use-risk-factor-heroin-use