Red Flag Laws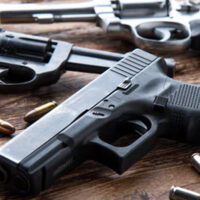 There is no doubt that measures to address gun violence are and will continue to be in the national and state news. Arguments on both sides of the issue have been presented in the wake of gun violence that has occurred across the nation. "Red flag" laws, also known as extreme risk protection orders (ERPOs), are state laws that generally permit authorities to order that firearms be confiscated from individuals who are deemed to be at risk for violent behavior. According to a recent CBS News article, seventeen states and the District of Columbia have implemented such laws.  Included in this tally is Nevada, where a new Red Flag law is due to take effect soon.
Nevada Red Flag Gun Law 
Nevada's "red flag" gun law, which is part of Nevada Assembly Bill 29, was signed by Governor Steve Sisolak last June. According to news reports, the law is scheduled to take effect on January 1, 2020.
The law provides a means for removing guns from individuals who are considered to be at risk for violent behavior. According to FOX5 News, here is the procedure for how the Red Flag law will work:
a family member or the police submits an application that includes a description of the alleged potentially dangerous or threatening behavior
within seven days of an order being issued, a hearing on the application will be held
if a determination is made that the person possessing the gun is a threat to himself or herself or others, the gun or weapon can be confiscated for a period of up to one year.
Challenges to Nevada's Red Flag Gun Law 
According to FOX5 News, a group called NevadasCAN is seeking to prevent the enactment of Nevada's Red Flaw law. The group is challenging the constitutionality of the law. According to Newsweek reports, the challenge to the law is that it is unconstitutional and violates gun owners' due process rights because it allows judges to take away an individual's firearms, and therefore impinges on his or her rights under the Second Amendment.
Other Nevada Weapons Laws 
In addition to the Red Flag law, other laws affect weapons possession in Nevada. These laws affect, among other things, who may obtain and carry a firearm, and where concealed firearms may be carried.  Among these laws are those that apply to:
possession of a firearm by a prohibited person
carrying a concealed weapon without a permit
Depending on the circumstances, the consequences of conviction of the above offenses can be severe. Conviction of possession of a firearm by a prohibited person, for example, can carry penalties of a fine of up to $5,000 and imprisonment of up to six years. Carrying a concealed weapon without a permit can carry penalties, depending on the circumstances, of up to $5,000 and imprisonment of up to five years.
The laws that apply to gun owners in Nevada are complicated and changing. It is important for those owning weapons to understand how these laws work, and how and when they will be applied. If you have questions about gun laws in Nevada, or would like to know more about gun or other weapons laws, contact an experienced Las Vegas criminal defense lawyer at Lobo Law.
Resources:
usnews.com/news/best-states/nevada/articles/2019-06-01/nevada-legislature-gives-final-ok-to-red-flag-gun-bill
fox5vegas.com/news/local/henderson-group-seeks-to-block-enactment-of-nevada-red-flag/article_723a8c6a-1ca9-11ea-b815-c30f9fee8851.html
https://www.lvcriminallawfirm.com/animal-cruelty-prevention-laws/