Nevada 2021 Legislature Takes a Stab at Justice Reform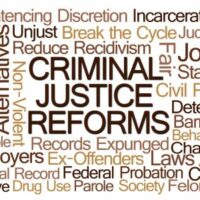 2021 in Nevada could be a year of innovation when it comes to addressing concerns related to criminal justice.  Key measures could lay the groundwork for drastic changes that groups like the ACLU have been championing for years.
Police Reform 
Some bills aimed at reforming police conduct will be debated this year, all with the aim of improving safety and performance:
One bill addresses rubber bullets commonly used by police, and bans the shooting of rubber bullets at the head, torso, or back of people. It also requires police to provide warnings ahead of using tear gas so they have plenty of time to disperse without sustaining injuries.
Another key goal is to improve use-of-force recordkeeping. Incidents relating to misconduct, traffic accidents, and complaints should all be logged and maintained in a place where they can be accessed as needed. That way trends can be tracked, and interventions forged.  At the very least, departments should be required to report into a federal database.
New education requirements may take effect, requiring police officers to have education beyond a high school diploma. An Associate's degree or two years of military service, it is argued, would correlate to an officer's ability to think critically, handle stress, and remain calm in difficult situations.
One bill is calling for the study and/or pilot of crisis response call centers to direct mental health professionals to certain situations, in hopes that community needs are met more safely and practically.
The failure for officers to activate their body cameras could be considered police misconduct under a permissive inference Basically, missing footage could be viewed as evidence that misconduct may have occurred during jury deliberations.
A state cause of action could be created under another bill, when a person believes their rights have been violated by an officer and seeks policy reform. 
The Death Penalty 
This year the move to abolish the death penalty in Nevada may have legs.  In the South, Virginia has already paved the way, making change in other states seem more possible.  Add to that the agony over the rush of multiple federal executions in the waning days of the Trump administration, and we are seeing palpable energy to change Nevada law.  There have been serious problems with capital punishment here in the state, not the least of which is the prolonged legal skirmish over drugs used in executions. Nonetheless, the legislation to eliminate the death penalty has a tough hill to climb.  Nevadans overwhelmingly support capital punishment, with nearly six in ten polling in strong support of keeping the law as is.  The District Attorney will be putting its weight in opposition to changes to the law, as well.
The Fight Continues 
At Lobo Law, the fight for justice moves ever onward.  If you are looking for an aggressive, fair defense, we can help. Contact our Las Vegas criminal defense lawyers for a confidential consultation today.
Resources:
thenevadaindependent.com/article/independent-poll-nevada-voters-overwhelmingly-support-death-penalty
thenevadaindependent.com/article/death-penalty-police-use-of-force-and-bail-the-top-criminal-justice-reform-issues-on-tap-in-the-legislature