Marriage Fraud: Is It Worth A Green Card?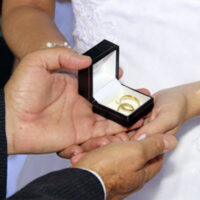 Some people are so desperate to be able to legally live and work in the United States that they will do anything they have to in order to obtain a visa. Others experience financial motivation or have other reasons for arranging or participating in fraudulent marriages so that a non-citizen can get their hands on that coveted green card.  If you have been accused of participating in such a scam, you could be facing serious fines and time behind bars, among other consequences. Now is the time to get in touch with an experienced criminal defense attorney who is willing to go to bat on your behalf.
What Might Red Flag Your Marriage? 
The United States Customs and Immigration Services (USCIS) and Homeland Security authorities make a habit to scrutinize marriages involving a U.S. citizen who sponsors a foreign individual who wishes to obtain a visa or green card. That's because it is believed that a large percentage of such unions are, indeed, fraudulent.  In addition to the thorough going-over that all such applications receive, certain factors raise red flags for officials including:
When the couple in question speak different languages;
When the marriage occurred quickly after meeting or quickly after a divorce;
When there is a huge age difference between the individuals;
When people come from different faith backgrounds;
When people from different socio-economic situations, social statuses, or cultures marry;
When a highly educated individual marries one with a limited educational background;
When the newlyweds do not live together, or do not live as man and wife;
When the marriage has been hidden from friends and family;
When the timing suggests the marriage occurred to prevent a deportation;
When joint accounts and other evidence of marriage are arranged just prior to the USCIS interview;
When the two individuals are of different races.
Penalties 
Marriage fraud, when used as a tool to get a green card, is a federal offense. The immigrant in question faces $250,000 in fines and five years in a federal penitentiary.  They will lose the visa and be sent back to their country at the end of their prison term, never to be eligible for a green card again.  A citizen who willingly participated in a fraudulent marriage or who helped to arrange one faces the same $250,000 fine and five years behind bars.
A Conviction is Bad News
The fallout of a conviction for marriage fraud is long-term and consequential, for sure. A U.S. citizen could have difficulty accessing housing, jobs, and more after the ordeal. At Lobo Law, our goal is to provide a vigorous defense for individuals accused of arranging or participating in fraudulent marriages.  Contact our Las Vegas criminal lawyers for a confidential consultation today.
Source:
uscis.gov/laws-and-policy/legislation/immigration-and-nationality-act