Keeping An Eye On Potential 2023 Criminal Justice Reforms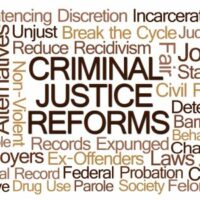 Now that the new year has been rung in, many are hoping for new energy being invested into important reforms within the criminal justice system that could improve lives across the country. What are the possibilities? There are certainly plenty of ideas that are grounded in research and evidence, and that have political backing in both parties. How successful the journey to fruition for these ideas is remains to be seen.
Federal Reforms 
At the federal level, a number of reforms have been debated in the recent past, and the hope is that 2023 could see passage of important legislation:
The EQUAL Act: This federal legislation is geared toward eliminating the disparate sentencing associated with crack cocaine and powder cocaine, disparities that generally flow along racial lines.  While the legislation didn't succeed in 2022, perhaps 2023 will have a more positive outcome.
The Fresh Start Act: This legislation—bipartisan in nature—would help states to implement automated expungement for certain crimes by providing state funding toward these efforts.
The Clean Slate Act: Another bipartisan bill that seeks to seal records for certain drug charges and other federal crimes automatically is under discussion.
The Driving for Opportunity Act: This bill changes federal laws that currently incentivize states to suspend one's driver's license due to unpaid fees or fines, inhibiting one's ability to work.
Other Reforms 
Individual organizations and states have been working on criminal justice reforms with some success, as well.  Some that are sparking excitement countrywide include:
ICAT Training: ICAT stands for Integrating Communications, Assessment, and Tactics. It's a training program designed to help officers find success as they encounter critical incidents. ICAT weaves together basics like critical thinking and intervention techniques with communications and tactical training with the goal of helping first responders deescalate dangerous situations, particularly involving unarmed individuals or those who may be experiencing a crisis or mental health issue. The end result is safer outcomes for officers and communities alike.
Bail Reform: A number of ideas for bail reform have been floated and tried across the country, from eliminating cash bail for non-violent crimes, to requiring judges to consider the financial circumstances of a defendant when making bail determinations.
Quality Counsel: An effort is underway to improve equity in the criminal justice system by funding projects that address the independence, quality, and access of public defenders. This is one more effort to improve the racial inequities in the justice system, since Black defendants are more likely to require a public defender at five times the rate of white defendants, and Hispanics are twice as likely as whites.  Defendants of color are less likely to receive probation than their white counterparts, and generally are sentenced to longer prison terms for the same crimes.
Advocating for Criminal Defendants
 The experienced Las Vegas criminal defense attorneys at Lobo Law are committed to being strong advocates for our clients, regardless of the charges or the circumstances.  We champion reforms that support just outcomes.  If you are facing criminal charges, contact us in our Las Vegas office for a confidential consultation today.