Is Police Treatment Of Little Kids Appropriate?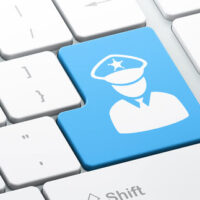 Handcuffs on a seven-year-old?  Is that really necessary?  According to the police, the answer is yes. But there are those who disagree, the child and his parents, in particular.  What prompted such treatment, and how often do experiences like this occur?
Details of the Situation 
How did police come to believe that cuffing a little boy with special needs was the right thing to do?  It seems they were called to an intersection in Reno after the youngster and other children were yelling at one another on the bus.  The bus driver pulled over as the first grader threatened and screamed. When police arrived, he kicked an officer, prompting fellow officers to handcuff the boy until his parents arrived. Distraught at the sight of their little boy in that situation, the parents acknowledged that their son did have issues with behavior, but felt that cuffing him was a use of excessive force. They should have given him space and helped him to de-escalate, rather than immediately going for the cuffs, as another officer commented that they should hogtie the boy's feet. A review by the police department found no wrongdoing by officers.
Not an Isolated Situation 
Across the country, children are being threatened and cuffed by law enforcement officers who are being called upon to discipline children in their school classrooms and hallways..  Gone are the days of being sent to the principal's office: why bother with that when armed officers can intervene? Recent incidents include:
An off-duty officer dragging a four-year old down the hall in preschool;
A six-year old being cuffed and put into a police car;
An eighth grader facing six days of lock up for throwing Skittles in class;
A sixteen-year old being dragged down the school steps and tased due to a cell-phone violation in class.
What are the Options? 
One mother of an 11-year-old reports that police had been called no less than 30 times by the school in her child's short life. Starting in 2nd grade, security personnel and police interacted with the difficult student time and again. Without question, this boy had serious behavior issues, having torn apart classrooms, broken items, run away from school, and frightened fellow students and teachers. What is the appropriate intervention for such a troubled student? Experts say schools need better support systems for cases like this, including:
More school psychologists, counselors, and social workers;
Engaging parents to assist when children act out;
When using resource officers in schools, providing specific training on how to work with and de-escalate difficult situations.
Eliminating zero-tolerance policies, instead opting to help troubled youth;
Training for all educators to know how to intervene with students in crisis.
Difficult Times 
Things can be tough in classrooms, and when a student threatens the safety of others there must be an intervention, but is traumatizing students really the solution to the difficulties? And should armed officers be called on to deal with simple rule-breaking at school? There has to be a better way.  If you have a child who's faced police interaction in school, the dedicated, compassionate Las Vegas criminal attorneys at Lobo Law can help.  Contact our office for a confidential consultation today.
Source:
kolotv.com/content/news/Parents-demand-answers-after-son-is-handcuffed-by-police-on-school-bus-564957352.html