First and Second-Degree Murder in Nevada Explained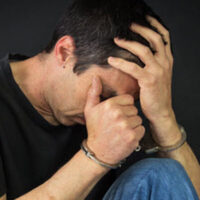 It is a well-known principle of our criminal law system that the crime of murder is divided into degrees. Less known, perhaps, is what makes up the distinction between these degrees. Often, the distinction is based upon details of the commission of the crime or related to the perpetrator's intent.
Nevada law contains a definition of murder, in general, and also separate definitions of degrees of murder, specifically. Therefore, the definitions of the crimes of first degree and second-degree murder in Nevada require reference to the crime of murder generally as well as the crimes of first- and second-degree murder, specifically. 
What is Murder? 
Nevada's laws prohibiting murder are contained within Chapter 200 of the Nevada Revised Statutes, which groups together "Crimes Against the Person."
The basic Nevada law that defines murder lists three categories of the crime of murder. Under this law, murder is the unlawful killing of another human being:
with malice aforethought
caused by a controlled substance sold, given, traded or otherwise made available to a person in violation of Nevada's controlled substances law, or
caused by a violation of the Nevada law that prohibits allowing a child to be present during commission of certain crimes involving controlled substances
Also, for the category of crime that is an unlawful killing with malice aforethought, the law defines express and implied malice. For purposes of the murder law:
Express malice is acting with a deliberate intention to take a life, where external circumstances that indicate this intention are able to be proved
Implied malice is deemed present when the circumstances of the killing indicate an "abandoned and malignant heart," or when considerable provocation is not apparent.

First and Second-Degree Murder 
The specific definition of first degree murder in Nevada references the general definition. Therefore, first degree murder is murder, as defined above, that is:
a willful, premeditated or deliberate killing, including one perpetrated by use of poison, lying in wait or torture
committed during the commission (or attempted commission) of

sexual assault
Kidnapping
Arson
Robbery
Burglary
home invasion
child sexual abuse
sexual molestation of a child under age 14
child abuse, elder abuse, or abuse of a vulnerable person
or abuse of an older person or vulnerable person

committed to avoid or prevent a lawful arrest or to cause an escape from legal custody
committed at a school or school activity or on a school bus by a person who intended to create a great risk of death or substantial bodily harm to one or more people
committed in connection with the perpetration (or attempted perpetration) of terrorism
The specific definition of second degree murder under Nevada law is "all other kinds of murder."
Many of the terms that are included in these statutes are further defined in the law and/or have been the subject of litigation in which the courts have worked to further define and elaborate upon their legal definitions.
For more information, or If you would like to know more about the crimes of first and second degree murder in Nevada, contact an experienced Las Vegas criminal defense lawyer at Lobo Law.
Resource:
leg.state.nv.us/nrs/nrs-200.html#NRS200Sec030
https://www.lvcriminallawfirm.com/changes-to-nevada-burglary-laws-effective-july-1-2020/