Federal and Nevada State RICO Laws – An Overview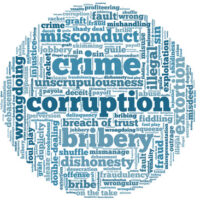 Federal RICO laws that were designed fifty years ago to combat organized crime are in the news today. That's because a criminal prosecution of members of a biker gang charged with violating federal RICO laws that had been proceeding in federal district court in Nevada is over, according to recent news reports. US News & World Report headlines reported that the defendants in the case were accused of running an international crime ring, and killing a rival's leader in 2011. The defendants, who, news reports indicated, faced potential sentences of life in prison if convicted, had been charged with conspiracy to commit violent crimes and drug offenses across several states in the western United States, in violation of the federal RICO laws.   The case concluded when the judge granted the prosecution's request to have the pending RICO charges dismissed.
What is the Federal RICO Law?
The federal RICO statute (the Racketeer Influenced and Corrupt Organizations Act) was originally enacted by Congress in 1970. Generally, the law, by its terms, criminalizes undertaking or financially benefiting from a pattern of racketeering activity through various types of participation in an enterprise. The law contains definitions of its key terms.
What is a pattern of racketeering activity? Generally, under the federal statute, a pattern of racketeering means committing at least two related racketeering activities within a ten-year period.
Racketeering activities, in turn, include a long list of criminal offenses, such as:
Murder
Kidnapping
Arson
Robbery
Bribery
Extortion
drug crimes
What is an enterprise? Generally, an enterprise can include individuals or entities, such as partnerships, corporations, or other associations, as well as groups that are not necessarily legally recognized entities.
Nevada's State Racketeering Law 
Nevada's state racketeering law is similar to the federal RICO statute. Nevada's RICO law also makes it a crime to engage in racketeering activity, which is defined as engaging in two related crimes, in connection with an enterprise. The time frame within which the racketeering activities must take place is five years under the Nevada law.
Like the federal RICO statute, the list of crimes that constitute racketeering under Nevada law is a long one. Included, among other crimes, are:
Murder
Mayhem
Kidnapping;
Arson
Robbery
Extortion
Burglary
forgery
An enterprise, under the Nevada racketeering law, may include people and entities such as sole proprietorships, partnerships and corporations, as well as groups and entities are not necessarily recognized as legal entities. In fact, the law makes clear that an enterprise can include legal and illegal enterprises, as well as governmental entities.
Nevada's Criminal Conspiracy Law   
Conceptually related to RICO is the crime of conspiracy, to the extent that both crimes require the involvement of more than one actor. Generally, under Nevada state law, a criminal conspiracy exists when two or more people plan to commit a crime, such as murder, sexual assault, kidnapping, arson or robbery. A defendant can be charged with the crime of conspiracy for planning to undertake a crime even if the crime planned never takes place.
If you would like to know more about federal or state RICO laws, or conspiracy laws, contact Lobo Law to speak with an experienced Las Vegas criminal defense lawyer today.
Resources:
leg.state.nv.us/NRS/NRS-199.html#NRS199Sec480
law.cornell.edu/uscode/text/18/1961
usnews.com/news/best-states/nevada/articles/2020-04-14/us-case-against-vagos-in-nevada-ends-racketeering-dismissed
asvegassun.com/news/2020/apr/14/us-case-against-vagos-in-nevada-ends-racketeering/