Do Police Unions Hamper Justice in America?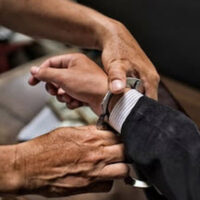 Workers have unionized across the country for decades in order to improve working conditions.  The list of benefits that unions secure for employees is impressive, ranging from a wage increase of about 20 percent, to the inclusion of fringe benefits like health insurance and paid leave.  Pension plans, vacation plans, and wage inequality have all been addressed in many professions due to union pressures.  But some believe that the efforts of unions on behalf of law enforcement have done more than simply enhance employee benefits.  Union protections, in fact, have been linked by some to very specific and troubling costs for the public.
Serious Concerns 
One of the fundamental concerns with police unions is that collective bargaining has been used to diminish both transparency and accountability in police work. This can unfold in any number of negative outcomes for the public, as recent history demonstrates.
Use of Force 
Here's an interesting statistic:  the Las Vegas Metro Police Department (LVMPD) determined that over 90 percent of use-of-force allegations against the department in a 2019 study were unfounded. This compares with a national average of 26 percent being ruled unfounded.  A finding of unfounded occurs when a police internal investigation proves a claim to be false. One explanation for this disparity may be the fact that there currently is no uniform definition as to what constitutes excessive use of force.  Another explanation may lie with the power police unions have amassed in efforts to protect their membership. While a citizen may believe they have been unfairly detained with force, officers may simply be following policy.  At any rate, getting to the facts of the case is often difficult for anyone outside of the police department. 
Political Endorsements 
Another fact worth understanding  is that police unions typically add their endorsement to candidates running for office, giving those candidates bonafide law and order credentials.  Upon winning an election, such candidates often are indebted to the unions, and political gratitude may come at the cost of justice.  Protections for officers that put citizens at a legal disadvantage in the event of an incident must be carefully examined.  Are they in the best interest of justice, or in the best interest of protecting law enforcement?  Is there a way to value and protect both?
Here in Las Vegas, the Las Vegas Police Protective Association recently endorsed Republican candidate Dan Rodimer for congress.  Rodimer has a history of alleged domestic violence, assault and battery.  It's difficult to imagine what qualities Rodimer might have that outweigh his propensity for violence in order to sustain the union's endorsement. Furthermore, it's disturbing to consider what Rodimer's stance might be on issues of police use-of-force issues, based on his own history.
Contact Us Today for Help 
If you have experienced a difficult situation involving Las Vegas police and are now facing charges, having an aggressive and creative attorney by your side as you proceed can be invaluable.  At Lobo Law, our Las Vegas criminal defense lawyers will fight with tenacity and heart to ensure the best possible outcomes for you.  Contact us for a confidential consultation today.
Resources:
registerguard.com/news/20190825/police-use-of-force-data-a-huge-mess-across-us
epi.org/publication/briefingpapers_bp143/
https://www.lvcriminallawfirm.com/protesting-in-las-vegas-what-are-your-rights/