Defending Charges Of Perjury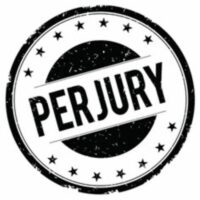 Most people have watched enough courtroom drama on television to know that perjury is a crime that generally boils down to lying under oath.  Perjury charges can be made against someone who employs false statements in a courtroom, to government agencies, grand juries, and Congressional hearings. The specifics of federal law are significantly more complicated than simply stating something that is untrue.
 Elements of Perjury 
People lie all the time.  It becomes a crime under very specific circumstances:
The person has taken an oath to tell the truth;
In a divergence from that oath, the individual chose to offer a false statement;
The individual knew the statement was untrue when making it;
The statement was relevant to material facts of the case.
What is Considered "Material to the Case?" 
When testimony could impede the proceeding or impact the outcome of an investigation or conclusion, it is material to the case.  That means that a lie told under oath, but not having a material impact, would not be perjury. 
Wiggle Room? 
Although it sounds pretty cut and dried, the fact is that a perjury conviction cannot be achieved just because someone was unresponsive or even because they misled in their testimony.  If the literal truth was related, but context or additional facts would change the meaning or interpretation of those facts, it is not considered perjury. For instance, you could testify that you saw someone in a red shirt take something off of a store shelf and put it in a bag without paying for it. If you then saw the thief change into a green shirt and leave the store, but were asked only if you saw someone in a red shirt then leave the store without paying, it would not be a lie to say you did not.  Even though you knew more information that would get to the bottom of the crime, failing to disclose it is not considered perjury.
Penalties 
Perjury is a serious crime and a guilty verdict could land an offender in federal prison for as long as five years. In state court, perjury is a category D felony, and offenders could face up to four years in state prison in addition to as much as $5,000 in fines. Even worse, when found guilty of both state and federal perjury, sentences run consecutively, meaning an offender could serve up to nine years behind bars.
Defending Perjury Charges 
In some cases, a strong Las Vegas criminal defense attorney at our office can find procedural abnormalities in order to get perjury charges dropped. In other circumstances, perhaps they can demonstrate that there was no intent to lie, or that the lie was not material to the case.  Regardless of the situation, you can be sure that your dedicated and experienced criminal defense attorney will defend you with vigor.  Schedule a confidential consultation at Lobo Law our office today.
Source:
casetext.com/statute/nevada-revised-statutes/title-15-crimes-and-punishments/chapter-199-crimes-against-public-justice/perjury-and-subornation-of-perjury