Defending Charges Of Hate Crimes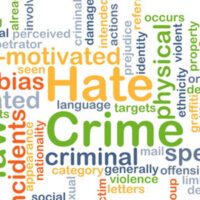 The recent homicide of Ahmaud Arbery sparked enormous interest in the criminal justice system.  Arbery's killers, Gregory McMichael, his son Travis McMichael, and neighbor Roddie
Bryan, were found guilty of murder, and thereafter faced federal hate crime charges.  What are hate crimes, and how do charges of hate crimes impact sentencing?
Nevada Hate Crime Laws 
There are hate crime laws on the books at both the state and federal level.  Both are based on an offender's bias being a motivating factor in the crime.  The areas of bias here in the Silver State include gender identity, sexual orientation, race, religion, color, national origin, and disability.  When crimes are committed because a suspect is prejudiced against one of these groups, the charges can be enhanced and result in longer sentences, in some cases as much as doubling one's sentence.
Federal Hate Crimes 
At the federal level, violent crimes that are directed at someone due to bias can lead to additional years behind bars in a federal prison. The most serious cases, involving murder, attempted murder, kidnapping, or aggravated sexual abuse, could lead to a life sentence.  The protected areas under federal statute include race, color, ethnicity, sexual orientation, gender, gender identity, disability, and sexual orientation.
Proving Bias 
Proving a defendant acted based on bias can be tricky.  In the Arbery federal hate crime case, prosecutors relied on a combination of text messages and testimony showing that the defendants regularly used racial slurs and derogatory language when referring to Black people. When they saw Arbury jogging through their neighborhood, it brought suspicions to mind because he was Black.  Prosecutors argued that the murder occurred because the defendants viewed him not as a man, but as something less than human.  Only such an attitude could lead to the stalking, harassment, and eventual murder or an innocent man.
Hate Crime Statistics 
Of the hate crimes prosecuted in Nevada in 2020, the majority have been based on a racial bias (84). There were 14 each related to sexual identity and religious bias, one each related to disability and gender identity bias, and two incidents based on gender bias.
Defending Against Hate Crime Charges 
At Lobo Law, we understand that if the underlying charges are dropped, the hate crime enhancements become mute.  That is often where our experienced criminal defense attorneys start. When looking at the specific charge of hate crime, our job is to prove that bias was not a factor in the crime.  We will work with you in an effort to provide a vigorous, no-nonsense defense.  To discuss your case, schedule a consultation with our Las Vegas criminal lawyers today.
Resources:
justice.gov/hatecrimes/state-specific-information/nevada
justice.gov/hatecrimes/learn-about-hate-crimes