Charges Against Airline Passengers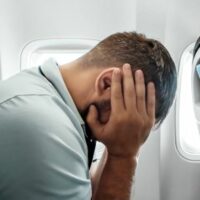 We've all been there:  tired, hungry, maybe even a little hung over.  Then come the lines, hauling baggage, and the never-ending list of rules we have to follow.  It's just irritating.  Did you find yourself at your limit and act out once you got settled onto the plane?  If so, you're going to need a skilled defense attorney to ensure the consequences for your behavior don't reach maximum limits.
Fines Might Shock You 
Take some comfort in the fact that you're not the only one who has flipped out on an airplane of late.  Travelers of all stripes are cracking up, to the tune of $1 million in fines handed out by the Federal Aviation Administration. While that doesn't excuse your behavior, it may help to know that the challenges of life—and travel—have pushed a lot of people outside of their normal persona.
Las Vegas Tops the List of Unruly Passengers 
In just one week, there were over 30 cases of unruly passengers on flights, and over 25 percent of them had ties to Vegas. Those incidents accounted for over $100,000 in fines–more cases and fines than in any single city across the entire country.  Behavior issues most often related to either alcohol or masking rules (or both):
In a couple of cases, passengers were drinking alcohol they'd brought onto the plane, and continued to do so even after flight attendants told them the behavior was illegal. Those fellas both wound up with $15,000 fines.
Three women defied mask mandates while drinking in front of flight attendants. They each landed with $13,000 fines.
One man screamed and swore at flight attendants and growled like an animal on the flight out of Las Vegas. He was charged with disorderly conduct and public intoxication and was hospitalized upon landing.  That story's not over for sure!
Criminal Charges 
As the number of these cases grow more frequent and more violent, there have been more and more calls for police to meet planes as they land to deal with offenders. While the FAA may impose pretty hefty fines, they cannot file charges against unruly passengers.  The Association of Flight Attendants, among others, is now pushing for more criminal charges against individuals who interfere with attendant's ability to do their jobs.  Drinking and swearing is bad enough; but more and more flight attendants are facing physical attacks as they attempt to ensure a safe ride for passengers.  Criminal prosecutions are a logical consequence of such behavior.
A Vigorous Criminal Defense 
If you have had this kind of trouble on a flight, you could be facing time behind bars on top of any fines the FAA dishes up.  At Lobo Law, our Las Vegas criminal attorneys will fight for the best possible outcomes for you.  Contact our office for a confidential consultation today.
Resource:
reviewjournal.com/crime/authorities-cite-growling-las-vegas-man-for-outbursts-on-flight-2435835/