Armed Protesters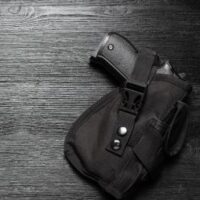 If you're a little concerned about gun-wielding people who are protesting various issues across this country, join the crowd.  But the fact of the matter is, in many states, including Nevada, the law allows for the open carrying of firearms.  That's true whether someone is in the grocery store, at a movie, or at a protest.
Case in Point Here in Vegas 
Even when a weapon is holstered, it can alarm the public.  In one instance in August 2022 police responded to a call at a campaign office in east Vegas when protesters showed up with visible firearms.  No one pulled a weapon out or made any threats, but people felt nervous, nonetheless.  Another similar situation occurred when protesters with holstered guns protested another democratic office opening on East Bonanza Road.  In both instances, there were no threats and no reason to arrest anyone. In the Silver State it is entirely legal to carry both a weapon in a holster and a long gun or rifle slung over your shoulder, with exceptions such as on school grounds, in airports, and in any federal buildings. Many, however, feel that protesters are carrying weapons precisely because it intimidates others, and the protest strategy has the potential to be quite dangerous.
Why Such Concern? 
The obvious worry about having weapons at political gatherings is that the country has seen a huge groundswell of political violence recently, not the least of which occurred on the grounds of the U.S. Capitol.  That protest resulted in hundreds of injuries and five fatalities. Threats and violent behavior have spiked even more since the justice department served a warrant on former President Donald Trump's Mar a Lago estate in Florida. Shortly after the FBI action, an armed man went to a Cincinnati FBI office to attack agents there, and was subsequently killed.  In Texas, windows have been shot out of a Democratic Party office, as well.
How Big is the Problem? 
One analysis by the New York Times reported that there have been over 700 armed protests in the past couple of years, the majority of which were in opposition to liberal ideas such as access to abortion or LGBTQ rights.  Many smaller protests have occurred at indoor events like school board meetings. Extremist groups, and even Republican leaders, were often a part of these gatherings, and violence erupted between those of opposing views at over 100 such protests. Fortunately, the violence was limited to fistfights.
Protected Freedoms 
The debate over gun laws is ongoing in the country—but for the present, the ability to open-carry is indisputable here in Nevada.  If you are hassled or arrested for bringing a firearm to a protest, the dedicated Las Vegas criminal defense attorneys at Lobo Law can help. On the other hand, if you've truly been threatened by a gun-wielding protester, you have legal rights, as well. In either case, schedule a confidential consultation in our office today.
Source:
reviewjournal.com/news/politics-and-government/tensions-flare-after-armed-protest-outside-political-office-2630297/