Are You In Trouble With The Law For Retail Theft?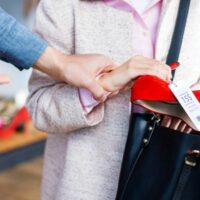 The holidays have traditionally been a time that retailers see an uptick in retail theft. Not long ago their biggest worry was that someone would try to sneak out of the store with an extra CD tucked beneath their shirt. But nowadays many criminals have become much more brazen, to the point of actually engaging in smash and grab theft in broad daylight. If you've been charged with taking the five-finger discount, you are looking at some serious penalties in Nevada. That's why finding an experienced local criminal defense attorney would be a good idea now.
Prevention Measures 
Retailers are taking retail theft seriously and are doing everything possible to diminish retail theft. They are providing employees with better training so they can recognize shoplifting, and many businesses even hire undercover personnel who pretend to be shopping while actually keeping an eye on shoppers. Technological measures help as well. Pricier merchandise often contains tags that set off alarms in the event of a theft.  And as we all know, cameras are everywhere these days, tracking the movements of customers, and of thieves.
Have You Been Accused of Shoplifting?
 Imagine that you've been accused of shoplifting. What should you do now? For starters, let's talk about what you should not do:
Do not try to explain your way out of it.
Never argue with store employees or physically resist.
Don't give out any personal information about yourself to store employees.
Do not sign anything.
Instead, here is what you should do:
If a bonafide police officer questions you, you must tell them your name and nothing else.
Immediately ask to speak to your attorney.
Do not say anything to managers, loss prevention individuals, or anyone else.
Have You Been Arrested? 
If you are arrested—which could happen– you should have been advised of your Miranda rights. Continue to say nothing beyond expressing your desire to speak to your attorney.
Nevada Penalties for Shoplifting
 Shoplifting is taken seriously in Nevada. If you were found guilty of taking merchandise worth less than $1,200 you could wind up with a fine of  $1,000, restitution, and even be sent to jail for up to six months. The greater the value of merchandise taken, the more severe the penalties.  Repeat offenders will also see harsher consequences. Ultimately, serious offenses—involving merchandise valued at over $100,000– could put you in State prison for twenty years with $15,000 in fines plus restitution.
The Defense You Need 
At the Lobo Law our dedicated and experienced Las Vegas theft defense attorneys are prepared to fight for the best outcomes for you. To discuss your situation, schedule a confidential consultation in our office today.
Source:
washingtonexaminer.com/restoring-america/fairness-justice/the-holiday-shoplifting-season