How is Bail Handled in Nevada?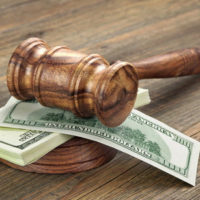 For people who are arrested in Las Vegas, it can be a very disorienting process. This is partly because any arrest can create stress and anxiety, but it's also because many of the people who are arrested in the city each year do not actually live here. If you live in a different state, you may have a basic understanding of your own state's procedures and what to expect. Maybe you had a DUI ten years ago, and you were able to pay cash bond in your home state. Or, perhaps you live in a state that has done away with cash bond on certain minor offenses. In Las Vegas, however, you may have several options for getting out of jail pending trial.
If you have a loved one sitting in jail unable to secure their own release, give Lobo Law a call. Many times, bail is misused as a means for punishing people, even before they've been convicted of a crime. With an experienced criminal defense lawyer on your side, your loved one stands a better chance of getting home and out of jail sooner.
Types of Bond in Nevada
So, how exactly does bail work in Nevada? Bail is something used to secure a release. There are three general types of "bond" that can be posted in order to get released from a Las Vegas jail. They are:
Recognizance. With most minor misdemeanors and non-violent crimes, courts tend to allow a person to be released on their own recognizance (ROR), meaning the court will take them at their word that they will show up to court appearances and ultimately for trial. Courts take into consideration a number of factors, such as reputation, business ownership, ties to the area, and past criminal history. One caution on these types of releases: you can be charged extra fines and penalties if you don't show up when ordered. It is almost never allowed if the crime is severe, especially where a victim may be in danger if the defendant is released.
Cash Bond. Where permitted, a cash bond just means that the defendant can pay the full amount of the bond. This is rare, as bond amounts can be tens of thousands of dollars. Most people do not want to put up so much money.
Surety Bonds. This is the most common type of bond that people are used to seeing. It is much like an insurance policy. This is usually what folks call a "bail bond." It's just a contract between the defendant and the bondsman. The bail bonds agent pays the majority of the cash bond rate, with the defendant only having to post about 15% (in most cases). If the defendant skips out and doesn't show for court, a bench warrant will issue.
The Nevada Imprisonment Crises and the Need for Cash Bail Reform
Nevada is known for having one of the highest imprisonment rates in the United States. Just last year, an article in the Nevada Appeal showed that Nevada's prison rate was 15% higher than the national average. And while those bail bonds may be an option for someone arrested for a crime, the state requires people to remain in jail for days, weeks, or even months until they pay their bail. Since July 2018, an average of 129 people remained in custody more than 7 days on a bail less than $5,001, according to the Safety and Justice Challenge website.
The problem, here in Clark County, is the fact that people simply cannot afford to make bail due to the expensive fees as listed on the bail schedule. Those accused of a crime are faced with a dilemma – having to choose between using their finances to hire an experienced criminal defense attorney or paying the bail to get out of jail. Both of these are solutions that take money, but both solutions are equally important in enforcing the rights of the accused so they can go back to living their life. If the accused person combines these solutions to their case, they gain benefits in the court's eyes. When that person appears in court, out of the jail's custody, with an attorney by their side, the court will see that they are taking their situation seriously.
To combat the bail issue, an Assemblyman introduced Assembly Bill 325 (AB325). Assembly Bill 325's purpose was to repair Nevada's cash bail system and make cash bail a last resort for those accused of crimes but the bill died before it had a chance to be voted on.  Without bail reform or an improvement of the bail system, the cycle of mass incarceration continues.
How to Get Help After a Las Vegas Arrest
For more information about where to go to pay bail, contact our skilled Las Vegas criminal defense lawyer today. Remember that cash bail is only taken during regular daytime business hours.  If you've been arrested and need help, or you have a friend or loved one in jail at the moment and need help getting them out, call Lobo Law today.
https://www.lvcriminallawfirm.com/sex-drugs-and-violence-americas-top-three-crimes/